Partners
Czech republic - Pardubice
Střední průmyslová škola elektrotechnická a Vyšší odborná škola Pardubice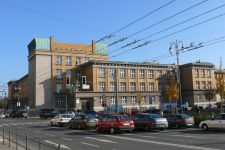 Belongs with its 500 students at the age of 16-19 and 60 teachers - highly qualified specialists - to the most prestigious schools in Eastern Bohemia. It provides technical education finished with the School Leaving Exam.
The branches of study are Electronic Communication Devices, Computer Science and Automation, Information Technologies. The project SEN is being made mainly by students studying Information Technologies because they learn required knowledge in special subjects such as multimedia and dynamic web applications, graphics, programming. However, some students studying other branches but they can make a video, take snaps, write texts are participating in the project as well.
The project derives benefit from the fact that study includes practice lessons and practical exercises in numerous ICT laboratories equipped with PCs, data projectors and interactive boards. Also, the part of the School Leaving Exam is final IT products such as a video, web, a programme which show students can use learnt theory in practice.
Learners regularly achieve first positions in technical competitions such as AMAVET. School also organizes ICT competition Pcák in which 50 contestants from primary schools of the region compete every year.
The school functions as a CISCO Academy and ECDL Test Centre.
Sweden - Vaggeryd
Fenix kultur - och kunskapscentrum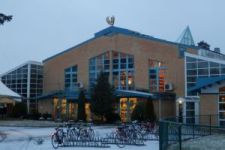 Fenix is a school that´s located in the southern Sweden in Vaggeryd. It has about 300 students and we have 16 different programs to choose between and they are college preparatory and vocational programs. We think that our school is good because it has a lot of internship and field studies and also international exchanges which are good because it gives us students the opportunity to build relationships and experiences that can facilitate the transition to work.
Here in Sweden we get food for free in the school because the citizens pay taxes for that and the upper high school is not compulsory for anybody.
Our school consists of two buildings. The main building and "Fenix 2". The main building was built in 1996 and the second building was built in 2010. The second building is very modern and it has nice views of the nature and the big lake Hjortsjön. In Fenix 2 we have the machines that is used most by the students from the vocational programs but also from the students from the technical program.
Slovakia - Presov
Stredna priemyselna skola elektrotechnicka
Secondary School of Electrical Engineering in Prešov belongs to one of the dominant secondary schools in the eastern region. The school has educated more than 6000 graduates in electrical engineering and related fields which have been successfully applied in all spheres of the economy.
Date of establishment:
Education level:
Secondary vocational education (upper secondary) ISCED 3A, which are leaving exam
Courses:
2675 M electrical engineering
2694 M Information and network technology
3917 M 03 technical and information services in electrical engineering
Explore your opportunities:
after baccalaureate graduates are prerequisites for further studies at universities and technical or economic orientation for entry to practice